#96:
Get Me Away From Here, I'm Dying
by Belle & Sebastian
If Astral Weeks is my all-time favorite disc, Belle & Sebastian's If You're Feeling Sinister is right behind it. The album doesn't have a weak track, and has several songs that I never get tired of, but Get Me Away From Here is the one I always go to first. A bit more lyrically specific than many of Stuart Murdoch's early songs, I'd listened to it endlessly before I ever really figured out what it was about. There are a few lines that always lodge themselves in my brain, and the end of this lyric is something of a motto for me:
Ooh! Get me away from here I'm dying
Play me a song to set me free
Nobody writes them like they used to
So it may as well be me
Eventually, I realized the song was a bit of a spoof on the group's image, and as such is almost intentionally cliched in places. But, you know...cliches are generally true. Musically, the song has a sprightly, yet still melancholy strum that sustains and then picks up midway, kicking everything to a new level. I say it's melancholy, but it always makes me happy. And then it segues into the sound of children playing in the distance (can any sound be more evocative?), which leads into the almost as lovely title track.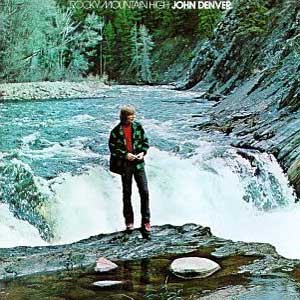 #95:
Rocky Mountain High
by John Denver
I tread carefully here, knowing that John Denver's name has become synonomous with a slightly empty-headed, uncomplicated hippy dippy aesthetic that's more than a little unfair to his legacy. One thing no one has ever doubted is Denver's devotion to the outdoors and the restorative power of nature. Rocky Mountain High is perhaps the ultimate distillation of that sentiment, and I never fail to be moved by the song. Denver's pure, ringing voice perfectly communicates the "back to nature" yearning that surely passes through everyone's heart at one time or another. Sure, it's romantic and slightly melodramatic, but I defy you to stand amidst the Rockies, watching an eagle fly, and not feel like flushing the rest of the world away.
John Denver also has sentimental attachment for me. His two signature hits, Rocky Mountain High and Country Roads (Take Me Home), represent the relative birthplaces of my parents (my mother having been born and raised in Denver, my father having been born ((as was I)) in West Virginia). And when I was a child, it wasn't unusual for my father to turn up the radio when Denver came on, singing along and encouraging me to do the same. Denver's records were always close at hand in the gigantic stereo console that sat in our various living rooms as we shuttled around the country.
And, of course, there's a specific memory attached to Rocky Mountain High that I'll always cherish. In the early summer (late spring?) of 2002, my father called a "family meeting," to which only myself, my mother and my sister were invited. He had something to talk to us about, and so we convened at a restaraunt in Wichita, eating outdoors on a lovely night. It was there that he asked us our thoughts on an unannounced option to run for Lt. Governor of Kansas, something it turned out we all supported heartily. While his eventual four years in office passed by like a breeze, spending that night with my immediate family remains stuck in my head. There was a singer set up on the patio at the restaraunt, playing a steel guitar, and taking a few requests. After dinner and a few drinks, my father started calling out for Rocky Mountain High, to which the singer replied with some annoyance, "I don't have the right guitar for it." That didn't stop my father, whose (kind of) polite badgering continued ("Aw, c'mon, play it, anyway!"), until the guy shrugged in exasperation and gave it a shot. It sounded fine to us, and we all danced around to the song, having fun being in one another's company, celebrating a new chapter in the family history...


Life is very difficult right now for a number of reasons, not the least of which is related to health problems within the family, but it helps to have moments like that in my bag of memories, to pull out every now and then and reflect upon.